Mazda CX-9
There's more to love in the CX-9 with 3 rows of seating, a dependable suite of standard safety features and a masterfully appointed, comfortably stylish interior. The 2023 CX-9 and its standard i-Activ AWD and generous cargo space is made to take you further, safer and with confidence.
POWER AND EFFICIENCY
The CX-9 comes standard with a Skyactiv-G 2.5 T Dynamic Pressure Turbo (DPT) engine that includes manual and sport modes, delivering effortless acceleration when you need it most. Crafted for driving enthusiasts and active families, the CX-9 is agile through urban streets and the twists and turns of country roads alike.
G-VECTORING DRIVING DYNAMICS
We built the Mazda CX-9 to feel like an extension of your body, with more precise steering, better control, and less fatigue. G-Vectoring Control Plus (GVC Plus) detects steering changes and reduces torque, shifting load weight during turns for greater stability. Just one way Mazda ensures you're well equipped to handle every road you take.
REASSURING RESPONSIVENESS
Experience enhanced performance in any weather with standard i-Activ AWD. It constantly monitors changing road conditions and adjusts power sent to each wheel for a more refined ride. When traversing uneven terrain, Off-Road Traction Assist optimizes torque distribution and traction control, adding confidence to each drive.
Space To Spare
G-Vectoring Control Plus (GVC) creates a feeling of oneness between you, your vehicle, and the road. By subtly shifting the car's weight in turns, it improves traction and handling for a smoother, more confident driving experience.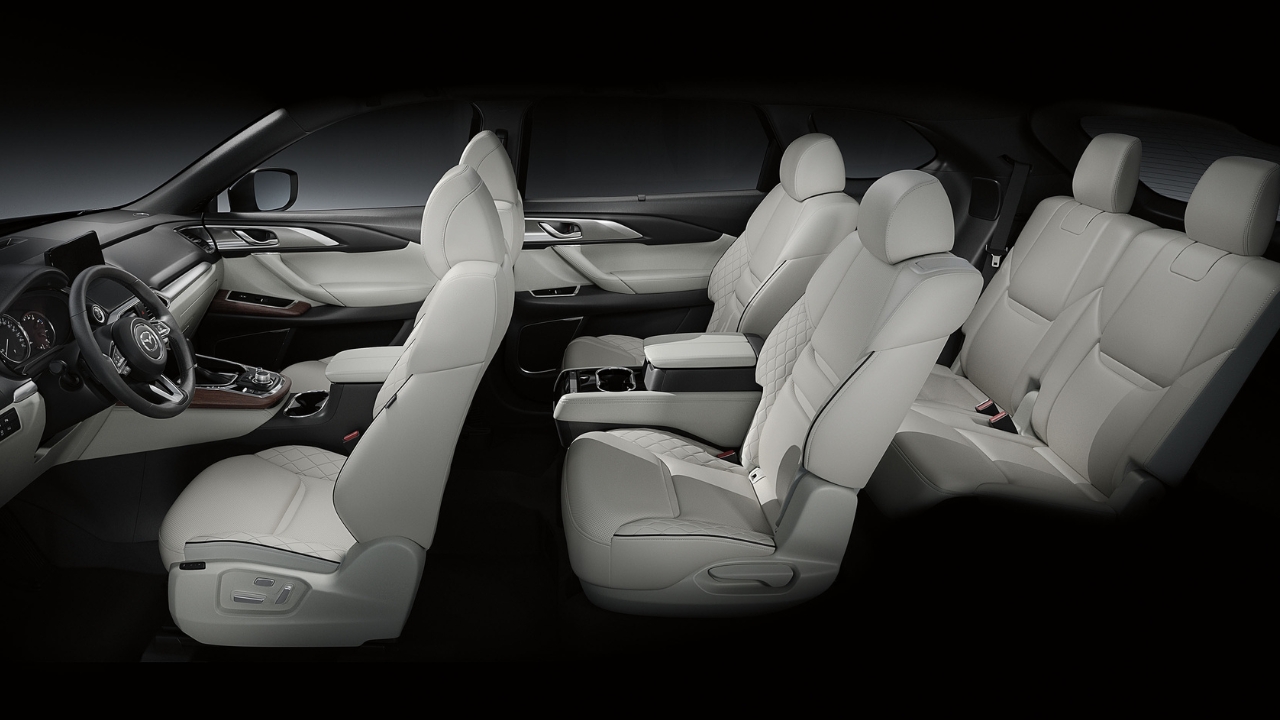 Functional Features
Whether you're packing for a weekend getaway or unpacking groceries, the power rear liftgate with hands-free access makes it easy to manage in even the tightest spaces.
INTUITIVE TECHNOLOGY. INSTINCTIVE SAFETY.
i-Activsense is a new generation of active safety technologies that automatically sense the vehicle's surrounding area – from nighttime lighting, to the proximity of other vehicles – and help the driver recognize hazards, avoid collisions and reduce the severity of accidents when they simply cannot be avoided.
Ready to ride?
Let's get started.
Legal
*All prices are MSRP in Canadian dollars. MSRP is the Manufacturer's Suggested Retail Price and excludes taxes, freight and PDI, levies, fees, optional equipment, license, insurance, registration, and any dealer or other charges, where applicable. Environmental or related levies and taxes may vary by jurisdiction. Dealer may sell for less. European or American models may be shown. Specifications, equipment, options and prices are subject to change without notice. Although we endeavour to ensure that the information contained on the website is accurate, as errors may occur from time to time, customers should contact their local dealer for details. Photos for illustration purposes only. Some items, such as wheels, may be unavailable on some trim levels when vehicle is built or may not be available in Canada. Fuel consumption ratings are estimates based on Natural Resources Canada's (NRCan) fuel consumption criteria and testing methods for 2018 model year vehicles and are provided for comparison purposes only. Please note that comparisons to seemingly similar vehicles pre-2015 model year will show discrepancies due to the difference in NRCan approved calculation methods for 2014 model year and older vehicles. Please refer to NRCan's Fuel Consumption Guide 2018 for estimated fuel consumption figures. Actual fuel consumption will vary based on driving conditions, driver habits and the vehicle's condition, weight carried and additional equipment. Tires are supplied and warranted by their manufacturer. Most vehicles are sold equipped with four all-season tires. For vehicles sold equipped with summer performance tires, note that appropriate all-season or winter weather tires are required for driving during cold, snowy or icy weather conditions. Please remember that the use of winter tires may be mandatory in your province or territory. Airbags are supplemental restraints only and will not deploy under all accident scenarios. Always use safety belts and seat children only in the rear seats, using restraint systems appropriate for their size and age. The navigation system depends upon signals from the GPS network and is designed to provide you with suggested routes only. Discrepancies may occur between the mapping and the actual location due to changes in street names, construction or other road system changes which are beyond the control of Volkswagen Canada. Please rely on your individual judgment in determining whether or not to follow a suggested navigation route.